India is a land of competition. After all, there are 1.3 billion of us, vying for the same limited resources, fighting for the same jobs, and struggling to forge a unique identity to set ourselves apart from our 130 crore brethren.
The Indian startup ecosystem is no different. This is precisely why you see dozens of firms with similar business models and little to no differentiator in almost every space. Most of the new startups hastily copy their entire value proposition, strategy, and business model from existing western startups. It is just a race to who can plagiarize the fastest.
The meteoric rise of India's EdTech sector is just a reflection of changing times. We already had a booming education business even before the internet was widespread – The Kota Factory. This small town in Rajasthan has become synonymous with coaching for competitive exams, primarily the JEE and sees more than 150,000 students come in from all over India annually. However, due to the astronomical pressure on kids aged 17 and younger, many of them succumb to substance abuse and other self-harm methods, tragically culminating in suicides.
---
With the advent of the internet, "coaching" is now, like a lot of other things, online. India now has over two dozen established EdTech startups, vying for their share of the lucrative pie. But what do you do when the "competitive exams" coaching space gets overcrowded? You expand the market. Create a need that was not there earlier.
And that kids is the story of "how we ended up with startups aimed at teaching coding to 6-year olds" (more on that in a future post). But the hole goes deeper.
This is the story of a new startup that claims to "Accelerate your baby's learning and development".
This is the story of Chota Einstein ("Little Einstein").
The core idea of the firm is rooted in the claim that "80% of brain develops before age 2" and that is why it is essential for parents to set their kids on the right path so that they can eventually become geniuses.
The company does not shy away from blatantly using Bill Gates (guess that is a trend now) as an unofficial ambassador to boost their legitimacy.
However, the warning signs are there.
The site is riddled with grammatical errors.
Leonardo "De" Vinci.

Stimulate specific parts of your "baby" (instead of "baby's brain")?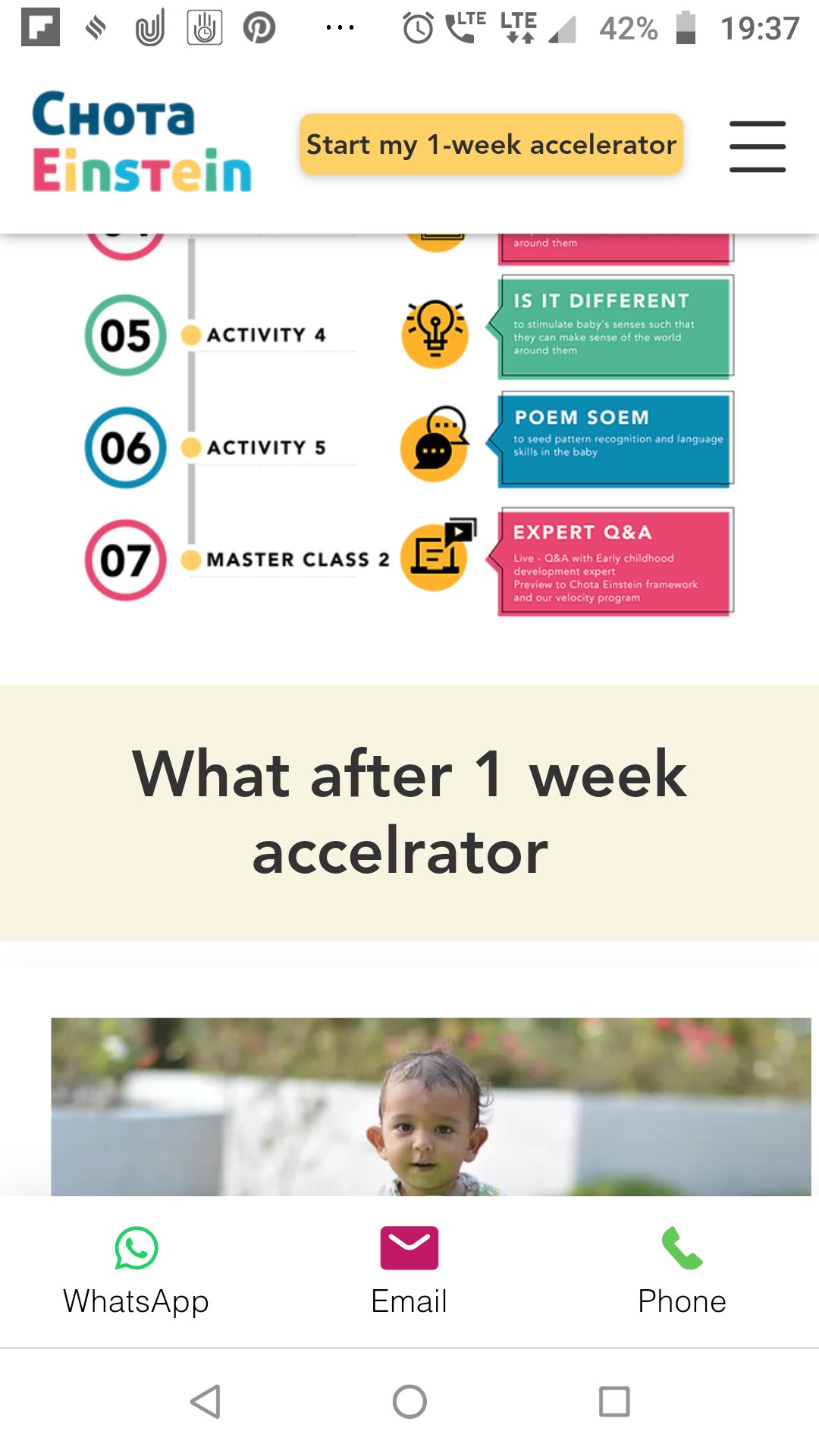 Then follow the parent testimonials on the community page (archived on Web Archive). One of the testimonies (by Pooja Agarwal) goes like this.
"When the pandemic started and the daycares closed, we had no idea when they would open. That is when I decided to homeschool my kid. I started looking for what curriculum to follow, what activities to do, and I came across Chota Einstein. What was striking to me was that while we have heard multiple times that most of the child brain development happens by the age of 2 years, Chota Einstein made me realize that if you give the right stimuli to the brain, what wonderful things it can do. So I decided to go with the product and we embarked on this journey. It's been great and my child has been learning a lot."
Another testimonial (Insiya Kapadia) follows a similar script, carefully reiterating the "80% of brain development happens by the age of 2" statement. A third (Josh and Juliana) again talk about how 0-2 years is critical for a baby's brain development. It all sounds fabricated corporate speak. So I did a little digging.
---
Chota Einstein is registered as "LPMK TECH PRIVATE LIMITED". On visiting the MCA (Ministry of Corporate Affairs) portal, I found that the firm has only been registered on 11th of Nov, 2020 (2 weeks ago at the time of writing this post). Getting so many clients that are ready to vouch for the quality of your services in such a short time is either a miracle or a fabrication. This also confirms that the testimonies (which have been on the website for a few days now) are just paid promotions or done by friends as a favor. After all, either the first parent is lying about enrolling their kid into the program when the daycares closed (around Mar) or they waited a real long time (6 months) for this particular company to roll in.
They also feature a gallery of cute kids (another emotional appeal) and claim that they are "Chota Einstein Baby". But are they?
Most of the images are titled fff.jpg or dhsjdhsfb.jpg or WhatsApp Image 2020-11-05 at 08.03.52.jpg. But worst of all, one of them is a stock image.
---
Finally, let's talk about the team – the "team of brain enthusiasts who are passionate to build a brighter future for your child and our country", the team that has "studied from the best of educational and scientific institutes such as IITs, ISB, IIMs, Stanford, LBS, etc."
The website as of now just lists the two co-founders. They had a section on their "mentors" but that has been removed.
The Harvard tag is untrue since the only one from Harvard (check the LinkedIn profiles) has deferred their admission to Fall 2021. The IIMs tag is untrue since none of the 5 profiles are from IIM. Finally, one of the two cofounder has been a career-long Radio Jockey (to be clear, I am not disparaging any career choice, but pointing out the ludicrous claims put forth).
None of the people featured here have mentioned Chota Einstein on their LinkedIn profiles (because it was, dare I say, launched very recently?). The company does not even have a LinkedIn page.
And then there is another very unsettling aspect to this entire story. Allegedly, even the idea is not original. As per a tweet by the founder of Let's Venture, an Indian Angel Investing and Startup Fundraising platform, the idea was stolen from the original guy by a VC whose wife went on to start a similar company. You can go through the company registration details above and figure out who exactly I am referring to here. Their LinkedIn profile matches the description.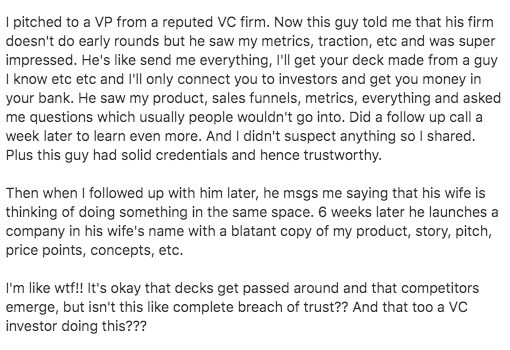 ---
The entire Chota Einstein saga, though nascent, is a cautionary tale – of ideas that might not be worth pursuing, of misleading claims and flat out lies, of embellished marketing, of idea theft by the VC circle, and most importantly of the eerily dystopian future of parenting.
Parents: Beware of this new age snake-oil salesmen. Your kids need love, affection, and "your" time. Introduce them to books. Read them stories at night. Encourage them to try new things and find their own passions. Allow them to play, make mistakes, and learn. Let kids be kids.
"We don't need no education
We don't need no thought control
No dark sarcasm in the classroom
Teachers leave them kids alone!"
---
"("Hey teacher! Leave them kids alone") The thinning moral compass of Indian EdTech industry" – a cautionary tale about parenting, startups, and unfettered capitalism.

Tweet